Mieke van Zon
Life Projects coach - bodyworker - trainer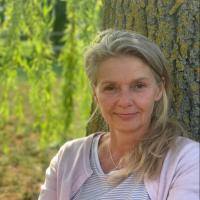 After studying communication science and a career in business as a management consultant and interim manager, Mieke's body showed that it was enough with working with mental focus.
There followed a deep valley and a way back up, where she came into contact with the 4 Dimensional approach of Dirk Oellibrandt. She started training 4 Dimensional Life Arts & Bodywork and began her own practice.
During this period especially the following was important: coming back home in my body, being mother of three daughters and being woman. Just then Dirk was looking for a new manager and that was the full circle. After working five years as manager of Life Projects, life indicated that it was time to let it go and follow the path that presented itself.
Mieke's motive is to give meaning to life in guiding people on their natural path to finding the unique place in yourself, life and work.
In her work with teams and organizations is the focus to discover the motive and joint mission from everyone's true core and inner strength. Her own experience of unity in being woman, mother, her relationship with Jan Paul, being coach and trainer in love for life, her passion in guiding people on their life to their full true potential.