Mieke van Zon
personal coaching

leadership coaching

4 Dimensional Bodywork
rates:
personal coaching €75/hour tax incl
business coaching €150/uur hour tax excl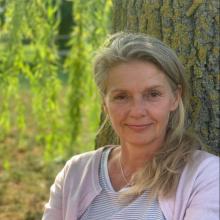 Mieke gives coachings in The Netherlands and on request in Hamme - Belgium.
Living according to your true nature. That is what I strive for every day, even when working with people. Balancing in all dimensions of life; body, feelings, thoughts and soul. And that is a challenge in daily life with relationships, children, work, education, friends, family and everything related to it.
My greatest teacher on this path has been mother nature for a long time. If I just don't know anymore, I look outside and inside and see how perfectly and simply everything is organized in nature. I think that is also the purpose of our true nature, our being human. Marvel at the life and beauty of the human body has always moved me to do the things that I do. My search for balancing the outer world with my inner world has slowly become a journey of discovery. And that makes life richer and more fun.
In my coaching and treatments we go on a voyage of discovery to your true nature, through the conversation and the body. When the two come into balance with each other, it becomes increasingly clear who you really are and what you have to do. My passion is to guide people through the process of waking up in their own lives. I always work with love and respect and help you see and feel what stands in your way to live who you are.
About Mieke:
After studying communication science and years of experience in business in the field of management, communication, public relations as a consultant and interim manager, life brought me to the 4-dimensional bodywork and lifestyle training of Dirk and Katrien. I have been working as a coach, practitioner and trainer for many years now, together with Life Projects. I also have my own practice in the Netherlands where I live in the land of Maas and Waal, together with my husband, our 3 daughters and our animals.