Elke Wilssens
Life Projects Coach

Bodyworker

Alchemy Teacher

Manager of Life Projects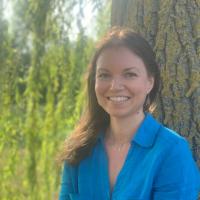 Already from a young age the question "how can one truly be happy?" was often on my mind. I could feel there was a deeper layer of life that few people embodied. Yet a knowingness remained in me that made me keep investigating this.
I was drawn to things that gave me that deeper experience of life. From my early teens I immersed myself in Tai ji, yoga, healthy natural food, aromatherapy, ...
But I continued to struggle with that connection and feeling with the spiritual on the one hand and the ability to live this in the world on the other.
When I was 19 years old I wanted to follow a Shiatsu course and that's how I ended up at Life Projects. The truth and unity between the spiritual and the physical that I found there touched me deeply and started an irreversible process. I found the puzzle pieces to unfold the full potential as a human being and live it in the world. It put me on the path to fulfilling my Life Project, inspiring people to live a true life from their true nature. Full of dedication I live and initiate Alchemy.
I certified as a Shiatsu healer, 4 Dimensional Bodyworker, Alchemy Of Bodyworker, Life Projects coach, 5 Elements Yoga teacher, Life force ritual teacher, Alchemy Of life teacher,… And also passionately dived 15 years into practicing and studying Oriental dance, or belly dancing . I taught and performed in this. The essence of this, being that women can enjoy their bodies again, the joy of life, vitality and self-confidence that is stimulated, was the basis for developing my Yin Flow classes.
In 2020 I also took the step to become part of the Life Projects management team. And in 2021 became manager of Life Projects together with Joeri. Bringing our method closer to the people and shaping our trainings brings me great fulfillment.
The earth consciousness, living in confidence and vitality in my body was not something that came natural to me. But just because I have committed myself to the process of disvovering this and cultivated it in all aspects of my being and life, it gives me a deep understanding and personal experience of Alchemy. This in combination with my soft, feminine presence, the light of my soul, my sharp mind and strong connection with spirit, ensures that I can clearly convey and make tangible what Alchemy is about.
With a lot of passion, dedication and gratitude I like to inspire other people in my classes, in my practice and as part of Life Projects!